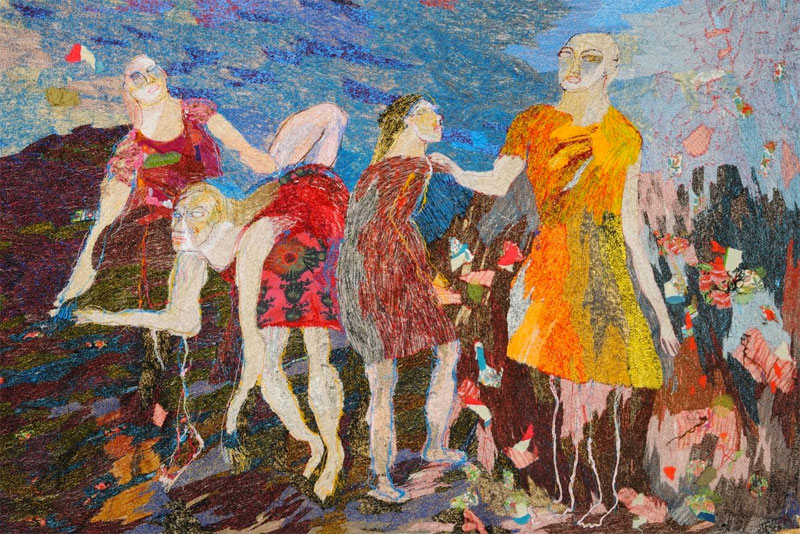 Alice Kettle
I had an unexpected day out in Edinburgh last week. My facebook and twitter friend
Sue Hotchkis
was staying in Edinburgh and got in touch to see if we could meet up at my exhibition. Unfortunately that was while I was away in Northumberland, but we met at the Royal Scottish Academy/ National Gallery instead on Monday. It was fantastic to meet her in person and share stories of textile doings and exhibitions. And it was thanks to her I got to see the wonderful
VAS:T exhibition
that was on at the Royal Scottish Academy. Wonderful in the most part due to three enormous
Alice Kettle
embroideries that filled one of the rooms. These had huge pictorial impact as I tried to puzzle out the story they were telling and I am afraid I behaved like a true textile person trying to peer at the back to work out how they were done. I know Alice Kettle generally stitches her work from the back, but trying to figure out how she got such weighty pieces under her sewing machine was staggering. I don't think I have the physical strength! Technically I also loved how she uses a loose bobbin to create different textures on the front (many quilters with their tight thread paintings would have fits – but it does it make Alice's pieces much better!) and the sheer amount of thread used.
I hesitate to make such a textile person comment, but it was really refreshing to see these pieces and other textile pieces from the open exhibition hanging in such a gallery, known primarily for painting. But perhaps my point isn't a sense of justice, more that they seemed right there and no less important than those using more traditional painterly mediums.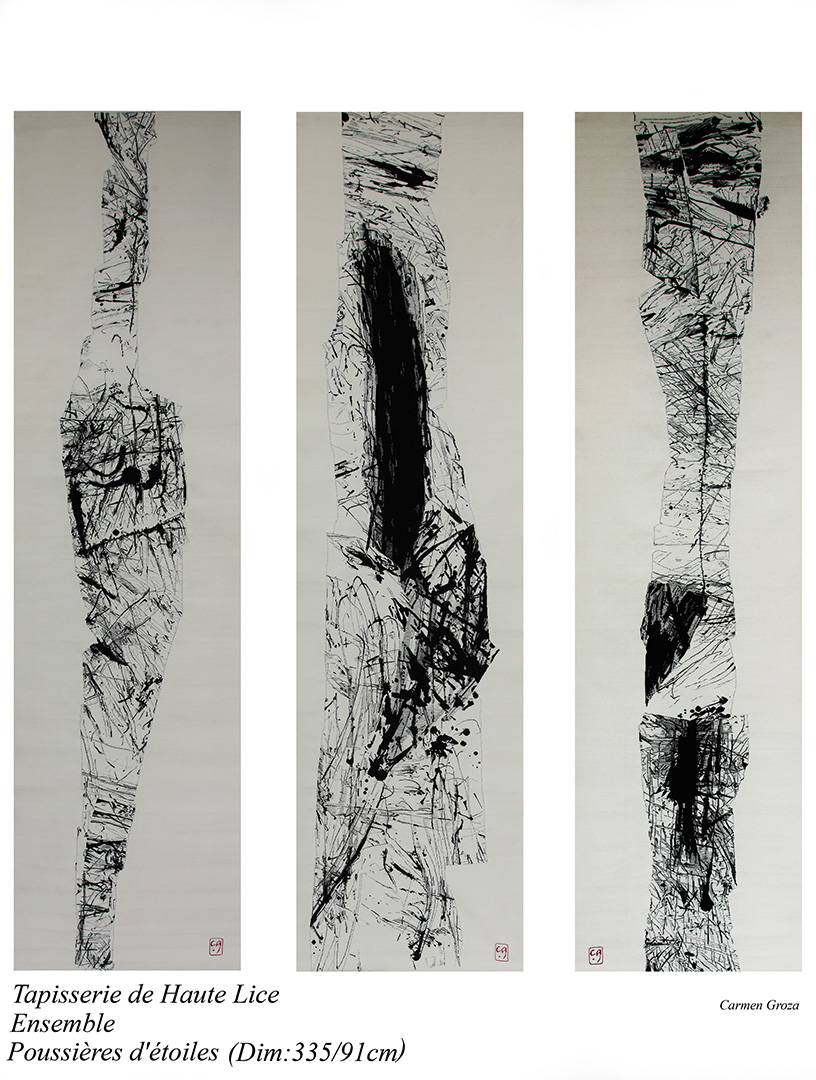 Carmen Groza – Poussieres d'etoile
s
Given I had limited time due to having to get back for school pick up I didn't have a huge amount of time to see the
Scottish Drawing exhibition
, which was also on. It has some beautiful pieces, some showing how a simple mark made with black ink or charcoal can be so evocative. I think I liked them better than the detailed ones!
So thanks Sue for a great day out. Reminds me I need to get out more often!